Does your car need touch up paint?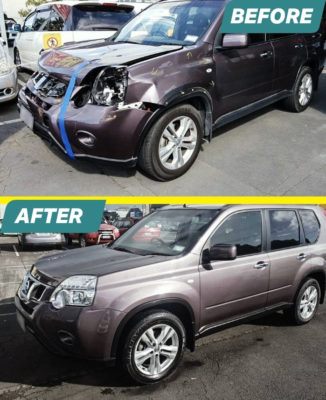 If your vehicle has a few scratches, nicks or dings, it's time to have those looked after with car touch up paint.
Touch up paintwork is often a straightforward and simple job – it's a bit like day surgery for your car. We can usually get the work done and have your vehicle back to you the same day.
Don't leave the damage untreated
If you ignore those scrapes and scratches and don't fix them, there is a high chance they will lead to further damage. Paint from existing damage is more likely to continue to flake off or peel. It's a bit like an open wound – the sooner you begin to remedy it, the less long-term damage it will cause.
If your car paint is flaking or peeling because of exposure to the sun's UV rays, it's essential to bring your vehicle in to have your car paint touched up. This kind of paint damage will only continue to get worse unless you bring it in for touching up.
We also find that damage left untreated leads to more damage. People are more careful around cars that are in good condition. They want to maintain that polished appearance.
How can you look after your car's paintwork?
The easiest way to look after your car paint is to try to avoid unnecessary contact – which is a bit easier said than done.
Be mindful of where you're parking – don't park under trees (falling branches and bird poo can wreak havoc on car paint)

Don't park near shopping trolley bays (those trolleys have a mind of their own)

Don't park too close to walls, posts or other vehicles

If you can, choose a parking spot in the shade, not the direct sun

Slow down a bit – most scrapes and scratches are the result of us misjudging corners, not noticing gate posts, or banging car doors into each other in a shared garage – all because we're in too much of a hurry.
If you have any type of damage on your vehicle, bring it into us at Mt Roskill Collision Centre for an initial assessment. We strongly advise you don't try to do car touch up paint yourself.
Bring it into the experts and we can fix any dents or damage to the panel, buff, polish, prime, paint and protect – the necessary steps required to maximise the life and value of your car.
How much does it cost for touch up paint in Auckland?
Car touch up paint is a unique service, and the costs depend on the extent of work needed and whether there is damage to replace.
Please have a read of our article specifically on the costs of touch up paintwork in Auckland.
For a no-obligation quote on car touch up paint, please contact the experts at Mt Roskill Collision Centre.
The Mt Roskill Collision Centre promise
Our goal is to have everyone on New Zealand roads driving safely. We offer a lifetime guarantee on our car repairs from our panel beating and collision repair service centre in Mt Roskill, Auckland. Contact us online or call us on 0800 227 762 for a free quote or to book an appointment.
Contact Us