Why do you need headlight restoration?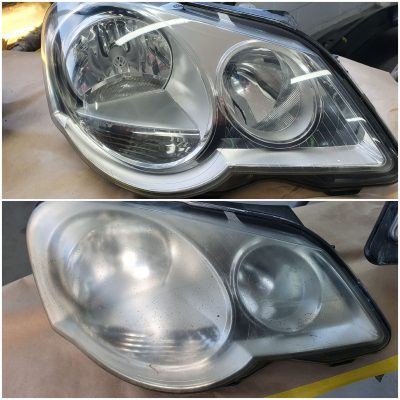 Your car's headlights are one of the most important components to keep clean and maintained on your vehicle.
Headlights have two main jobs – to help you see, and to help you be seen, both of which are severely affected if the headlights are not cleaned and maintained. 
How do headlights lose brightness over time? 
Cars that spend most of their life parked outdoors, where sunlight, oxidation, UV rays and air pollution take a toll on headlight lenses, are most susceptible to this aging process. Unlike bulbs that simply get replaced when they burn out, the lenses are permanent fixtures that usually don't get replaced unless they're damaged in an accident — or when owners realise they can't see at night because they're so clouded.
Changing bulbs can sometimes assist with achieving a brighter light, but unfortunately this does not solve the root of the problem: the cloudy lens. There are headlight restoration kits out there but unless a UV protective film is applied to the lens at the end, the results will not last very long. A UV protective film or clear coat is what protects the headlight from harsh sunlight and UV rays.
What are headlights made out of?
Most modern headlights are made from a poly-carbonate plastic. This strong plastic has been selected as fit for taking on harsh road conditions, but unfortunately this type of plastic is not designed for our harsh New Zealand sun. The UV rays attack and slowly deteriorate the protective film applied by vehicle manufacturers, allowing the plastic to oxidise.
The first thing we must determine is if the oxidation is affecting the outside of the headlight or the inside.The team at Mount Roskill Collision have researched and developed a remedy to permanently restore your headlights to keep you safely on the road. We offer a full headlight recondition package.
Our process of restoring headlights
We start the task with masking out adjacent panels to contain our work and eliminate any damage or sludge being moved around. We then start with a lower grit sand paper (800 – 1500), we sand with water to minimise the harshness of the paper. As we progress we will move to finer sandpapers to remove the deeper scratches (2000, 2500, 3000).
Once we're happy we've removed as much oxidation as possible we then thoroughly clean the headlight with a cleaning solvent and mask the entire car to prevent any overspray. A mixture of specifically formulated two component clear coat (clear + hardener) is made up and two coats are sprayed onto the headlight lens. This clear coat is formulated and designed for New Zealand's harsh sun. Once the clear has dried, we then apply two coats of wax to further aid in UV protection.
Unfortunately there are headlights that have deteriorated beyond repair or have oxidised from inside of the lens. In these cases we will not be able to restore – the headlights will require replacement, however this is not very common. 
How much does headlight restoration cost?
Mount Roskill Collision offer a full headlight restoration for a special price of $100 + GST for one headlight or $180 + GST for two (pair)  this is a small of fraction of replacing a headlamp as it can cost a lot money and it could happen again without the UV protective film. 
Call our friendly team to get your headlights looking like new again!
Frequently Asked Questions About Headlight Restoration
How to restore plastic headlights?
To restore plastic car headlights, you will need to clean the headlights with a mixture of soap and water to remove any dirt or debris. Next, use a plastic restorer or sandpaper to remove any yellowing or hazing from the headlights. After sanding, apply a coat of plastic primer, followed by a clear coat to protect the headlights and restore their shine. Let the clear coat dry completely before using your car.
However, to create the best results, you will need to have your headlights professionally restored.