Smashed your car or had an accident?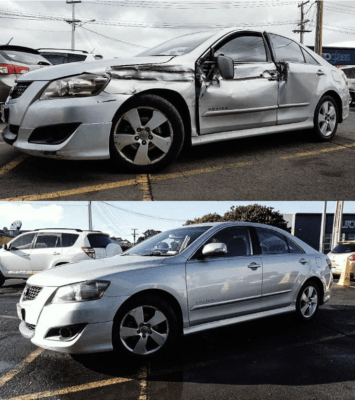 You might be reading this because you've smashed your car or even had a minor car accident. We understand not only the inconvenience but financial and emotional impact of having your vehicle off the road. We've put together a guide to help you through that process – so you know exactly what to expect from the car repair service provider you choose in Auckland.
Contact your Insurance company immediately
Make sure you ask for a 'car repairer or panel beater near me' when you speak with your car insurance company but keep in mind you don't need to go with their suggestion if you have a preferred repairer in mind. They will let you know if your claim is immediately approved or requires approval following a digital assessment.
Book an assessment
Call your repairer and book a time to bring your car in for an assessment. Generally this will take 5 – 15 minutes.
Digital assessment
The repairer will take photos of the damage and may have a few questions to understand the accident.
Estimating the damage and time to repair
The repairer will send photos with an estimate to your insurance company for approval to begin the work. Some repairers will be approved to begin straight away, if the panel and paint work meets certain criteria. If not, you will take your car home until the car repair is approved and a time can be booked. Ask your repairer to guide you on this.
Booking your car in for repair
The repairer will contact you once the insurance company has approved your car repair. The time will depend on your make of car as it is dependent on the parts being available. For example you may have damaged your bumper and a replacement bumper coming from overseas will take weeks whereas one coming from within Auckland a few days.
Repairs
The repairer will give you an estimated time in which they will complete the work which varies depending on the type of repair. For example a dent repair, small scratch repairs, simple bumper repair will differ to a heavy smash repair which requires more than a touch up of paint or separately if replacement glass needs to be arranged.
Loan cars
If you need a car to continue life with as little disruption as possible then ask about a loan car. Note they can be subject to availability, not all repairer have this option and there's a small charge. The loan car will be given to you with a full tank of petrol and you are expected to return it in the same condition.
Quality checking and grooming
Most high-quality panel and paint repairers perform a post repair quality check prior to you collecting your vehicle. Make sure you ask if this has been done. There may also be guarantee on the work done, in some cases a lifetime guarantee so you have peace of mind the work completed is at a high standard. Your car may also get a good grooming with a wash and vacuum so it is clean and sparkly ready for you to enjoy.
Collecting your car
Return your loan car (if applicable) with a full tank of petrol. If there is an excess, you will be required to pay the repairer before you get the keys to your 'as good as new' car back.
Drive safe.
Want to get in touch? We offer a lifetime guarantee on our car repairs and are based in Mt Roskill Auckland. Call us on 09 625 480 or visit our contact us page.